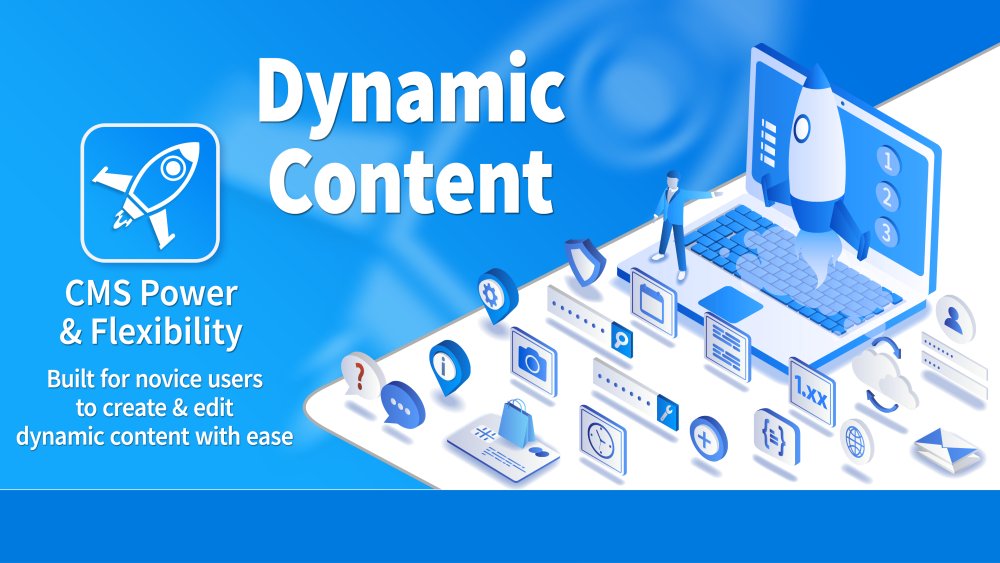 Dynamic Content Suite
The Dynamic Content family of stacks fills a need that everyone wants: An easy way to create, display & manage dynamic content - no matter what kind of site you may have.
Dynamic Content strikes just the right balance between ease of setup and being capable of handling really complex tasks.
Problems it Solves
Cost effective: One-time cost vs $1200/yr subscription for sim. software for 5 editors
Dynamic filtering/sorting of large amounts of content
Simple to use online editing for endusers
Layout content in table format or unrestricted open layout
Secure storage & protection of data through record & field permissions
Broad Range of Uses
Providing product logistics such as product inventory, product information and sales figures
Content searching for particular subjects or blog post entries
Marketing information such as product/service catalogs
Employee management such as sales activity, customer volume, manager/employee notes
Service scheduling of available employees, customer info, work assignments/service scheduling, employee records, service call notes or delivery services
Automatic Database
One of the outstanding features of Dynamic Content is the automatic creation of database tables and their related information fields. Users never have to touch a table, manually edit information on their server or learn complicated programming interfaces to access anything.
Table Layouts
Another great feature is Grid, which provides a table layout of all your dynamic content. Controls can be optionally selected to allow admin login, adding of content, importing of files, downloading of content, deleting of row(s) & deleting all content. The table layout supports 14 different content types which gives you an extensive range of display options. Pop-ups are provided for viewing content in read-only mode, as well as changing content in edit mode.
Drop Content Anywhere
To give you even more creative freedom, Layout Pro allows you to place dynamic content anywhere you can drop a stack and supports 14 different content types. Optional controls allow you to wrap text or html around your dynamic content and thus opens up addition content and styling opportunities. Dynamic conditions are also available to process data, display and style content based on a wide range of features. Pagination controls also allow you to cycle through dynamic content located anywhere on the page.
And Even More Capabilities
Move Content in 3rd-Party stacks
Customizable Filters
User Roles
On-line Editing Panels
Image/File Auto-uploads
Detail Page Support
Preset Filter Buttons
Dynamic Field Conditionals
Shopping Cart Support
Gallery Skins
Backup of Content
Support Requirements
Dynamic Content supports all modern browsers, IE10+, iOS & Android. And yes, it requires your server running PHP 5.3/7/8+, 'vanilla' MySQL or MariaDB databases & Stacks 3.5/4/5+ The Dynamic Content license is per domain (subdomain use is ok) & 5 editors.
Be sure to head on over to the Dynamic Content page and check out all the awesome reviews, there's also a ton of tutorial videos for you to watch & full documentation pages to learn all about Dynamic Content. And don't forget to download the free Suite demos and see how you like it.
Would you like to go Dynamic today?